My second year of living in Cambridge has just begun and I want to make the most of it! While the first year has mostly been about settling in, finding a job, making new friends and finding a place to live, I am now eager to dig in deeper and explore the city in all its richness. One goal I set myself for this second year is visiting every College in Cambridge.

There are 31 Colleges overall, some of them are located in the middle of town, some further outside, there are new and old Colleges, some with a reputation of being rich, some are said to be rather low on funds.
I created some sort of College profile that I will try to tick every time I visit a particular College. I am also interested in when the best time is to visit a College – seasons, particular days or hours of the day and I am hoping to share some of my experience with you here. I know that some Colleges do not seem to be very nice to visitors, which is understandable, given the fact that these places are supposed to be quiet havens for students and fellows, and not some crowded tourist attractions. Let's get started with Peterhouse, which seems to be an obvious choice for my first entry as it was the first College to be founded in Cambridge.
Name: Peterhouse (and not Peterhouse College!)
Founded in: 1284, which makes it the oldest College in Cambridge
Location: very central on Trumpington Road, just opposite Pembroke College and next to the Fitzwilliam Museum
Size: smallest College in Cambridge
241 undergraduates, 75 admitted each year, 163 postgraduates
Special features: thirteenth-century Hall (the oldest in Cambridge); Deer Park (large green space behind the Fitzwilliam Museum)
Reputation: It is being said that students receive generous, financial support in their research as Peterhouse is not only the smallest but also one of the wealthiest Colleges in Cambridge. Peterhouse was one of the last Colleges to admit women, which is why it still has a reputation of being backward-looking and misogynist. However, Peterhouse is now being led by a female Master, Bridget Kendall.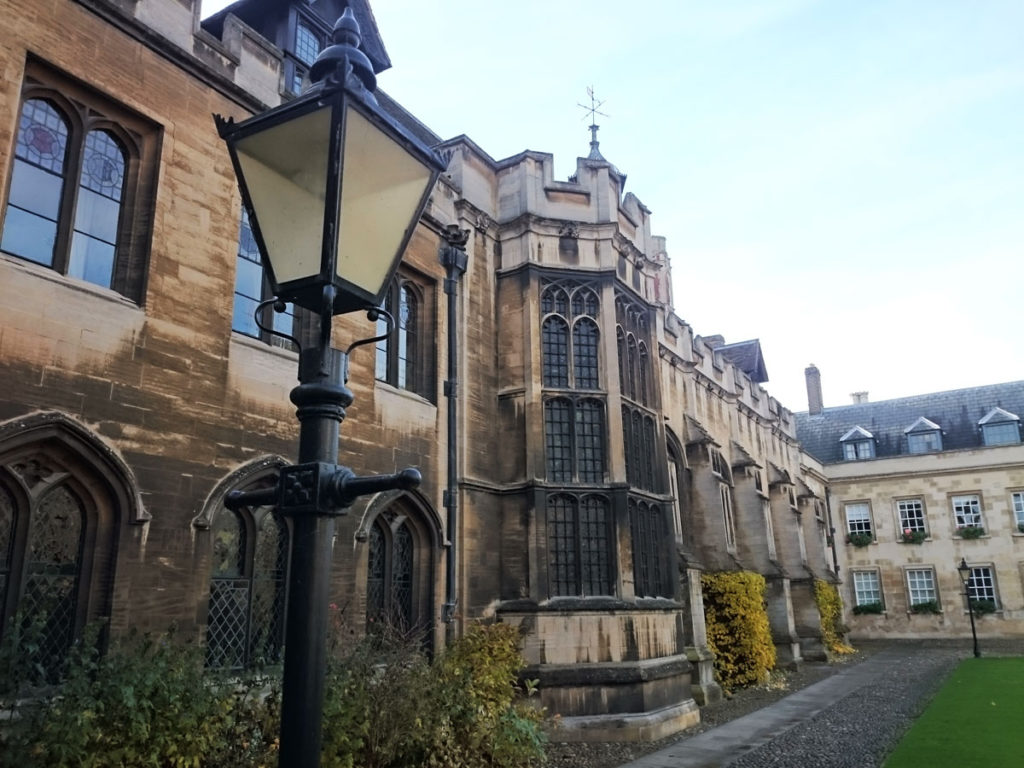 My impression: I went there on a quiet Wednesday morning in November around 11 am. The gate on Trumpington Road was open and I did not have to go through the Porter's Lodge to access the courts, so there was no need to justify myself in front of the Porters what I was doing there. My advice: don't start taking pictures when the Porters are still able to see you, because it is then very obvious that you are a visitor. Just walk very determined to the old court and take your photos there.
Autumn in general is a lovely time to visit the Colleges as you can take some snapshots of the beautiful architecture in autumnal colours. In summer most of the students are away on their big summer break and Cambridge is normally crowded by tourists at that time, especially in July and August. So I had the impression that Colleges very often shut their doors completely or charge an admission fee during that time.
I have heard stories of how tourists were just not able to behave themselves while visiting a College, meaning they were noisy, stepped onto the holy grass, helped themselves to coffee and tea that was not meant for them, and so on. If you can, avoid visiting a College with a large group, stick to the paths and do what the Porters say because they have the power to kick you out if you misbehave.