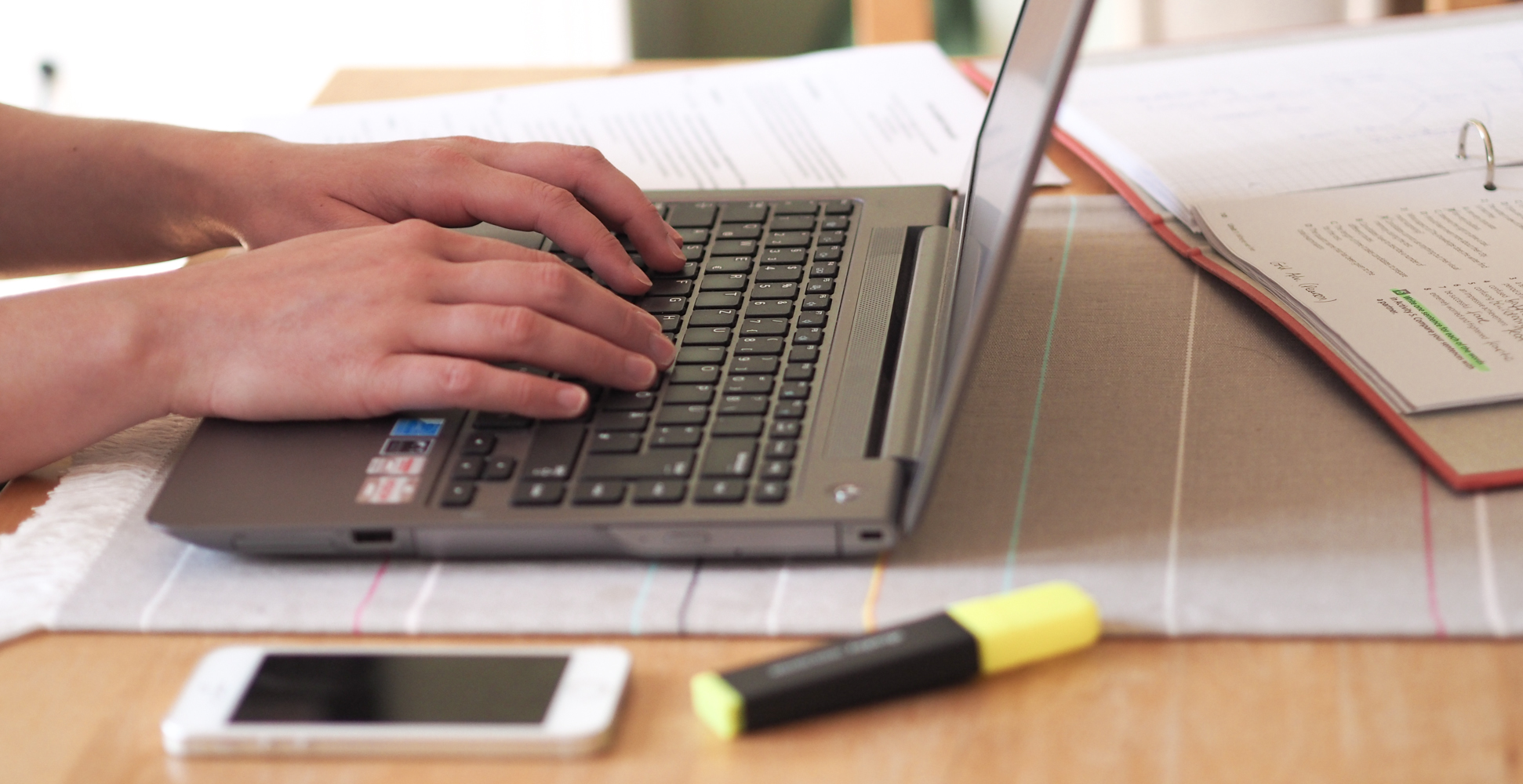 How to find a job in the UK
The things you have time for while on maternity leave: writing a blog post on how to find a job in the UK! I moved to Cambridge in September 2015 and I thought I'd just give you a bit of an insight how the job hunt went for me, especially during the first 1 ½ years of living here.

This is quite a subjective story based on my education and job experience, so I assume looking for a job might be completely different for someone with a very different background. Here is some information about my experience and education:
I have an undergraduate degree in humanities (cultural anthropology and a bit of management).
I used to work in an admin role in a small business school while studying and was a trainee in a digital marketing agency after graduating.
I did internships in journalism and PR and have always been interested in writing. Copywriting for social media was a major part of my job as trainee in digital marketing.
When I moved to Cambridge my goal was to find work in digital marketing combined with education. I achieved this goal, but not straight away! In fact, the first few weeks and months of looking for a job were quite disheartening. I realised at some point that I would not be able to use my main skill in England: copywriting. It's extremely hard to find a job in marketing if you don't have a professional level of English (yet). That's when I decided to focus on other skills, such as project management and my ability to work quite focused and detail-oriented. But more on that later, let me first go through all the steps I took to get the job hunt going in the UK.
Get a proof of address
This is a very important document as you need it for various official things in the UK, for example opening a bank account or applying for a National Insurance Number. A proof of address can be a utility bill or a council tax bill addressed to you. Since Nis and I lived in college accommodation at that time, where bills were included, the college as our landlord issued a proof of address for me.
Apply for a National Insurance Number
Being a European citizen makes looking for work in another European country easier in some aspects compared to not being a European citizen. I don't need a work visa for example. All I had to do was applying for a National Insurance Number (NINo). You pay National Insurance contributions to qualify for certain benefits and the State Pension. With this number the government ensures that your National Insurance contributions and tax are recorded against your name only.
When you move to the UK you just call the number provided on the website and make an appointment at your local jobcentre. They will go through a form with you, ask why you need a NINo (to be able to work in the UK) and you show them a proof of identity (passport) and your proof of address. I found this interview quite straight forward and I think I received my NINo around four weeks after the appointment.
Get as much advice as possible
I didn't know anything about the job market in the UK, so I asked friends for advice and I also reached out to the National Careers Service. They offer a free online Skills Health Check which I found really helpful to find out more about my strengths and weaknesses. I also had an appointment with a Career Adviser who gave me lots of advice on job profiles, where to find job adverts that suit my interests and how I can make my CV stronger. This was all free of charge!
Write a resume
There are some differences in writing a CV for British employers compared to German employers. For example, you never send a picture and you also don't include your date of birth. At the top of your resume you write a short profile that summarises your strengths and experience. I found that friends (ideally native English speakers) are normally more than happy to check your CV for any errors or inconsistencies. If you want more professional advice I can recommend the free drop-in sessions at the Central Library in Cambridge where a Career Adviser can give you detailed feedback on your resume.
Write a covering letter
There is so much information on writing a covering letter that it could be another article on its own but in short, here is what this letter should tell the employer:
What job you are applying for and where you found the job advert
What job you are currently doing, or your last job if you're out of work
Why you are interested in the job
The main skills and qualities you would bring to the job (keep this brief as the CV will contain more details)
Who to ask for references
Ask previous employers to be your referee
In Germany you normally receive a formal, written employment reference when you leave a job. When you apply for jobs in the UK you provide contact details of at least two previous employers. It's a good idea to let your previous employers know that you've passed on their contact details and that they might be asked to give you a reference.
Register with a recruitment agency
While you look for jobs on your own, I can recommend registering with a recruitment agency, for example Reed, Hays or any other local agency. A lot of companies don't openly advertise their posts but will use job agencies to find the right candidates. That's how I found my most recent job! I sent my CV to a recruitment agency who contacted me when an opportunity came up. Being registered with a recruitment agency is free of charge. If you accept a job offer the agency will invoice your new employer at around 15 to 20 per cent of your annual salary. This should not come off your payslip!
If you are hired through a recruitment agency I would always make sure that you are employed by the new company and not by the agency. 'Agency workers' or 'temps', as they are called, usually don't get all the benefits a regular employee would get, for example maternity or paternity leave.
However, working temporarily through an agency, also called 'temping', can be a helpful way to gain experience in various workplaces and to change careers. I used to do temp work in a logistics role, which was fine, until I realised that they would never offer me a permanent role and the job itself also got pretty boring over time. I really missed being creative and using my brain more. I basically sat in front of a screen all day, dealing with a supply chain management software for a technical product I barely understood. At some point I just had to quit to be happy again. I had been unemployed for just two weeks when I found a job in digital marketing, which was incredibly lucky in hindsight!
Do some volunteering
Volunteering in a charity shop for example is a great way to get out of the house and expose yourself to a new environment. It also helps to 'fill the gap' in your CV. My job in Germany ended in August 2015 but my new job in the UK didn't start until January 2016. In the meantime, I volunteered in a local Oxfam shop which was a really valuable experience and a gentle way to get used to an English working environment. You can find volunteering opportunities in your area through the website Do-it.org.
Brush up on your English skills
My English was pretty rusty when I arrived here, so I decided to join an afternoon class for advanced English learners at a local language school. This really helped me to become more confident in speaking English and to meet people who struggle with the same thing.
Prepare for interviews
Interviews always make me so nervous, especially when they're in English! But I never had a bad experience, people here are usually very kind and polite. One thing that always leaves a good impression is asking lots of good questions. It shows that you did your research and that you're interested in the role. Some questions I always ask are:
How does a typical working day look like?
What do you like about this job, product, company in particular?
What do you think I would struggle with in the first week, month, year?
Will there be training for my role?
There is a lot of advice on the National Careers Service website and they recommend not to ask about salary or benefits. I personally think this is crucial information to decide whether you want the job or not, especially if you have other job offers lined up. So, if salary and benefits are not mentioned in the job advert, be brave and ask!
Looking back at my job hunting experience, I think it's much easier to find a job in the UK than in Germany, even if you are not a native speaker. That is, if you are not too picky and happy to do some temping work until you've improved your skills in certain areas and found the perfect role that suits your interests. For me that included improving my level of English and applying for roles in digital marketing while I was temping. I found that employers in the UK are quite open-minded and happy to give you a chance, even if your experience doesn't match the job description 100 per cent. There is always a probation period where both parties can decide if the job/candidate was the right choice.
I now work for a private education provider that partners with UK universities to market and deliver online postgraduate programmes. It's a really interesting field and I'm thankful to have found a role in digital marketing where people trust me to maintain websites and social media channels although I'm not a native English speaker. Sometimes I think that I wasted too much time in my logistics temping role but perhaps I needed this 'dull' job to push me towards better and greater things.
Thanks for reading on, there was a lot of information to take in! Have you ever tried to find a job in another country? Or perhaps in the UK? I'd love to hear about your experience!
If you found this article useful you can support my work here: