Scotland road trip: Isle of Skye
You can reach the Isle of Skye either by ferry from Mallaig or by car via the Skye Bridge which spans the sea between the villages of Kyle of Lochalsh (mainland) and Kyleakin (Skye). If you rely on Google maps for directions I'd recommend that you make this map area available for offline use as there is barely any signal on Skye.

Accommodation on the Isle of Skye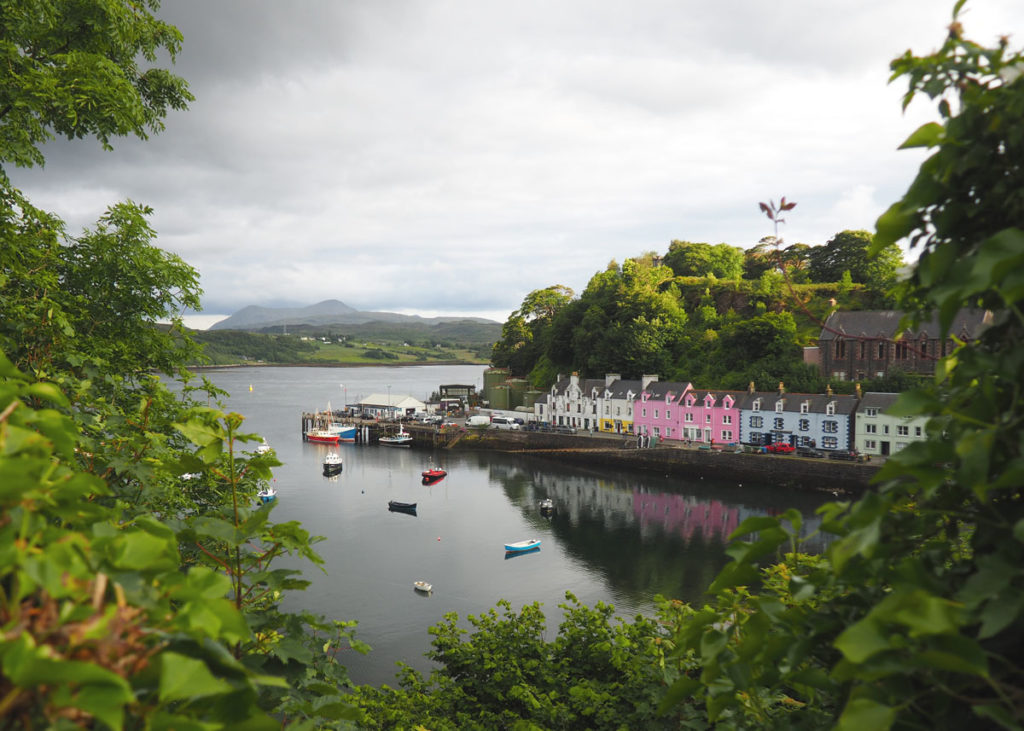 We booked our Bed & Breakfast accommodation in Portree two months before our trip, which was almost too late. The Isle of Skye has become incredibly popular and busy with tourists over the last few years. It is the biggest of Scotland's island, yet it is a relatively small place, so a lot of the B&Bs, hotels and self-catering houses are fully booked far in advance.
Most of the B&Bs are quite small and only have three or four bedrooms, so it feels like you are staying in someone's home rather than in a hotel, which adds a nice personal touch. The hosts are often keen to build a friendly relationship with their guests, giving them tips on what to do during their holiday.
Things to do on Skye
As we only spent two days here our main focus was on the northern part of Skye, also called the Trotternish Peninsula. One of the top tourist attractions here is the Old Man of Storr, a large pinnacle of rock that can be seen for miles around. Getting to the 'Old Man' is probably the most famous and also the busiest walk on the Isle of Skye. Nis and I didn't go on this walk but explored the Bearreraig Bay instead to look for fossils. Unfortunately I forgot to take photos of the Old Man of Storr from the main road, so now I don't have any pictures of the main attraction on Skye. But it's fine, we had a lovely time exploring the bay, which was definitely a less busy and more peaceful walk.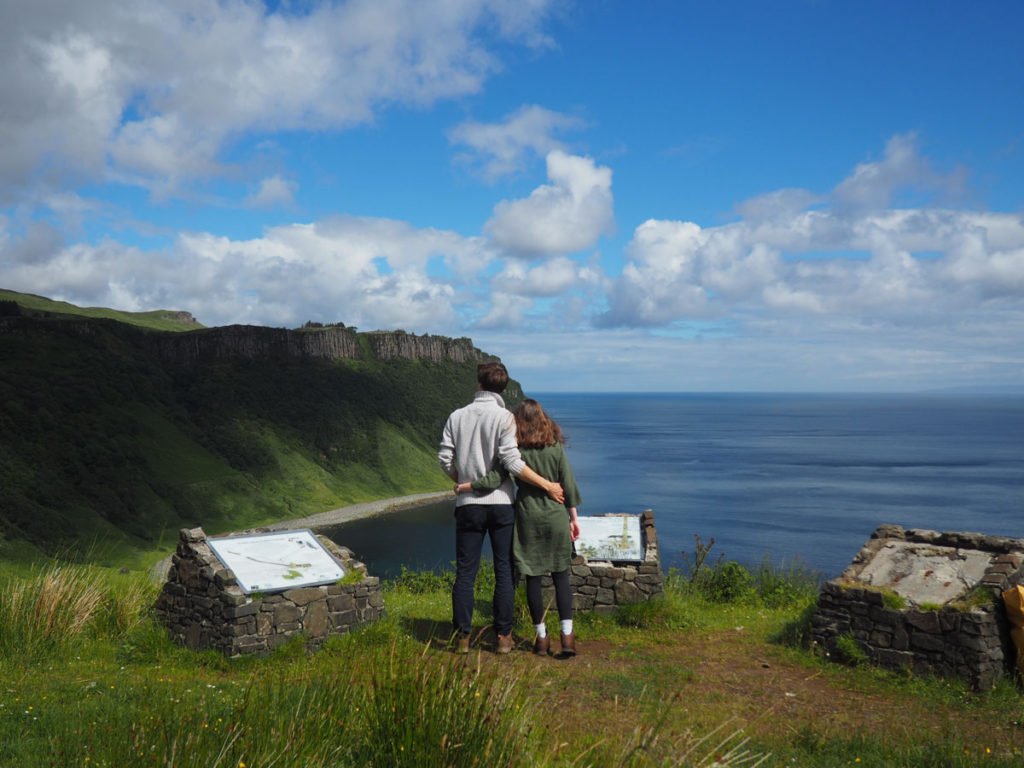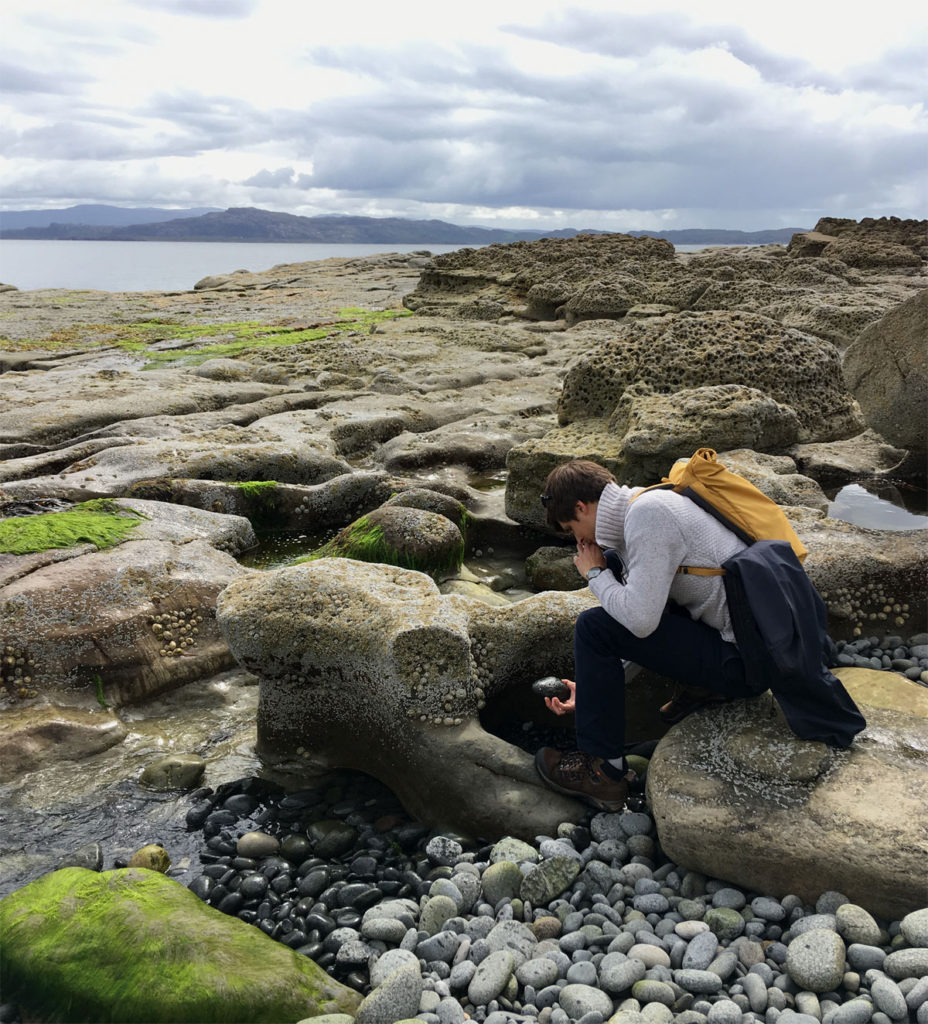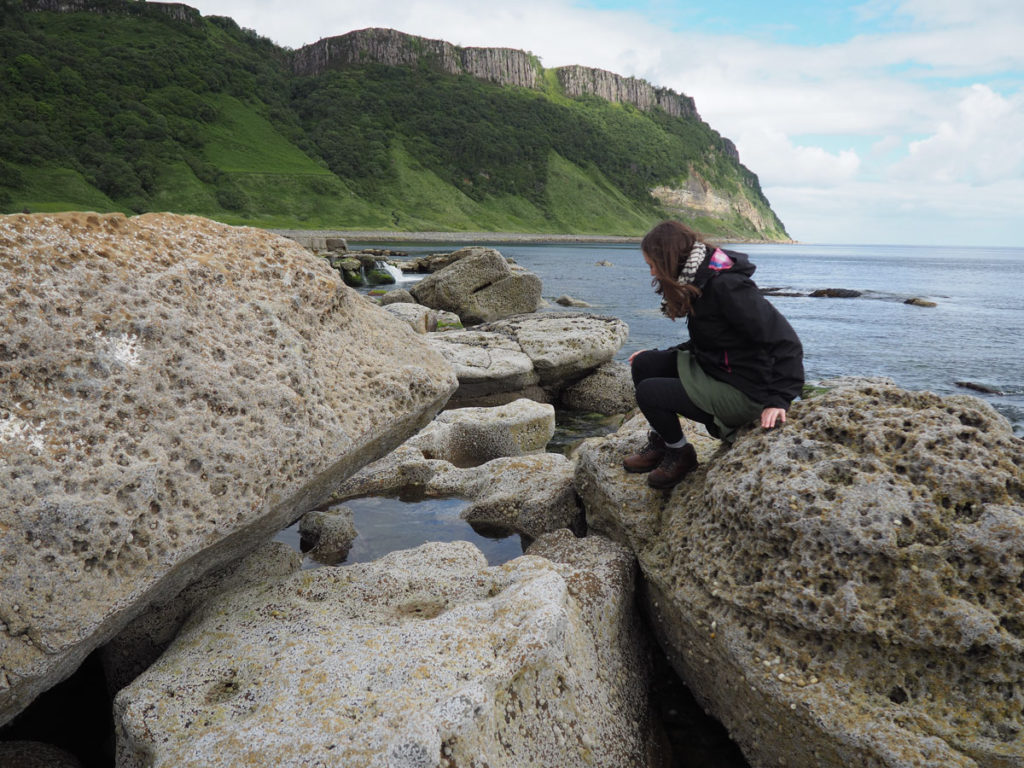 Exploring Skye by car is so much fun and we stopped so many times to take in amazing views and to capture them with my camera. There are great photo opportunities everywhere and it is in fact a paradise for photographers. However, there are many single track roads with passing places along the route, so you have to drive carefully and be prepared for what's next around the corner.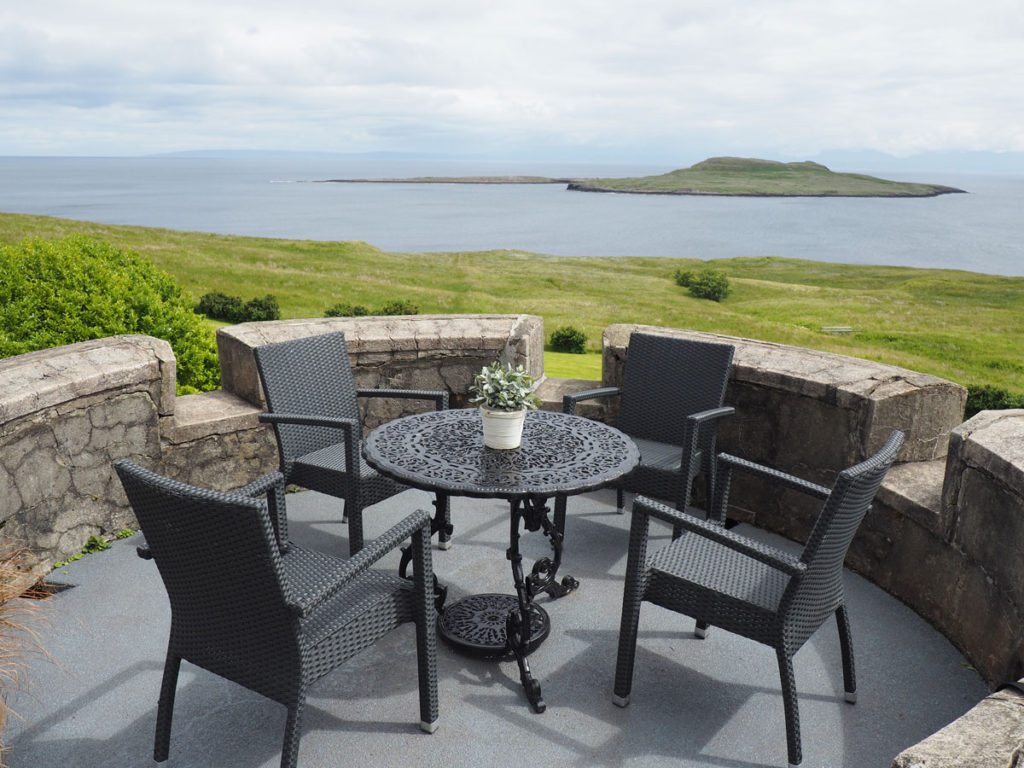 The Quiraing
Another spectacular place for photographers is the Quiraing. As part of the Trotternish ridge it has been formed by a massive landslip which has created high cliffs, hidden plateaus and pinnacles of rock. The area has been featured in a few films, for example Macbeth (2015), the BFG (2016), and very recently in Transformers: The Last Knight. The landscape does look rather supernatural and with a considerable drop down the hillside on the right, this walk is definitely not made for people with vertigo.
On our way back south we stopped at Duntulum castle which is basically a ruin but has some really nice views across the sea.
Back in Portree, we had dinner in a seafood restaurant called 'Seabreezes'. You have to make a reservation as it seems to be quite popular and it's a bit pricey too but it's so worth it! They serve really tasty and fresh sea food.
Fairy Glen
There are so many places on Skye that are just otherworldly and one of them is Fairy Glen near the village Uig. It is basically like the Quiraing but in miniature form. I still can't believe that this place has been formed by nature because to me it looked very man-made. One of the hills actually looks like a ruin and has funnily been called Castle Ewen.
Between these small round-topped grassy hills with little ponds in between we also spotted a little bunny, which made this place even more surreal. I think this is where Alice fell down the rabbit hole into wonderland.
Dunvegan Castle
In the north-western part of Skye you can find Dunvegan Castle, one of the island's major attractions. It has been the seat of the Clan MacLeod for 800 years and it is still a family home to them. The castle was first opened to the public in 1933 for two days a week but now welcomes thousands of visitors each day from April to October.
Claigan coral beaches
If you pass the big car park in front of the castle and continue on the single track road you will reach the Claigan coral beaches in about 15 minutes by car. The beaches here are formed from the bleached skeletons of a red coralline seaweed known as maërl. We had some wonderful sunshine that afternoon and the photos look like we spent it on a tropical beach. It was not as hot as it looks though! But some people were still brave enough to go swimming.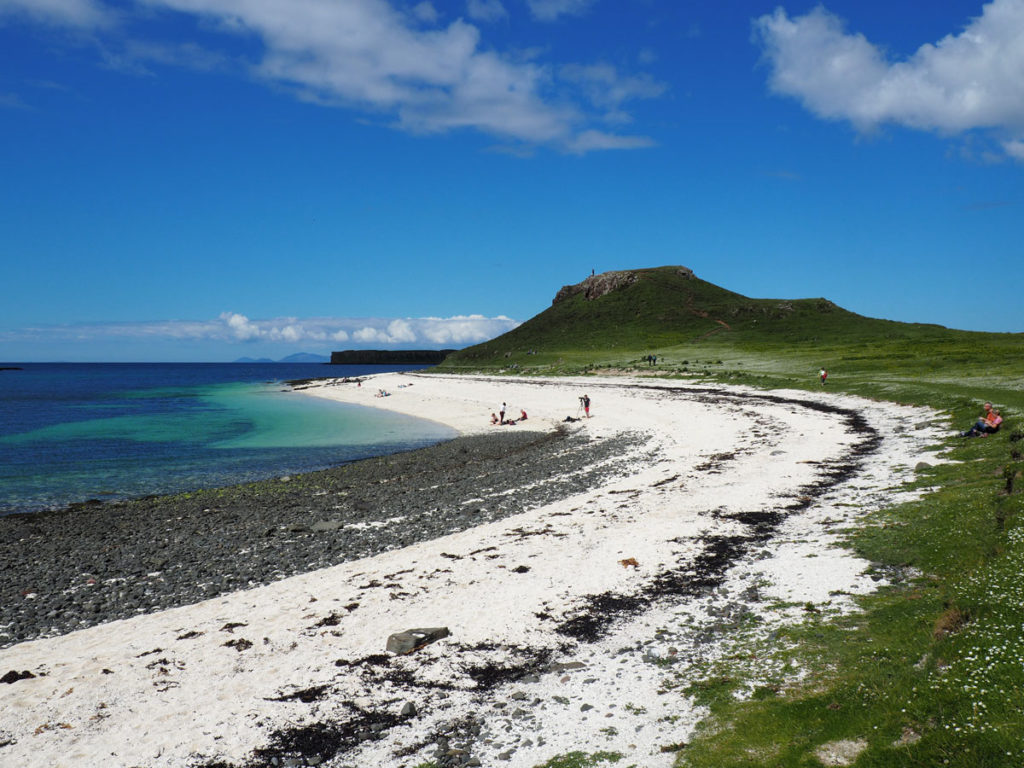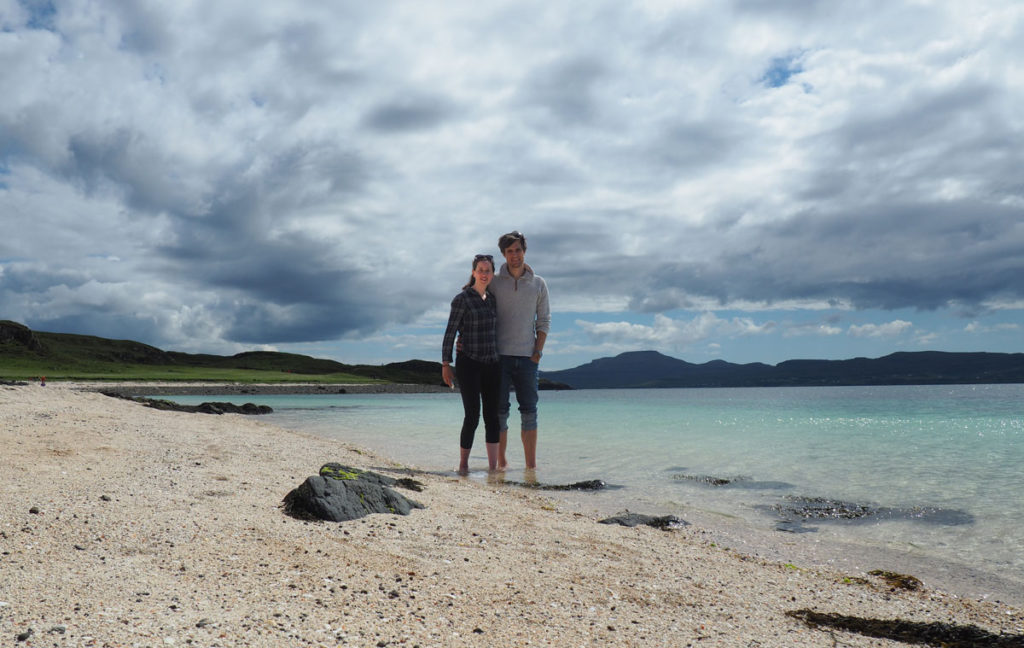 Skye is such a beautiful place with breathtaking landscapes and it's a shame we had so little time to explore the island. If there is a next time I will definitely try to spend at least one week in one of these cute white cottages that can be found everywhere around the island and explore the southern part of Skye as well.